Flood FAQ
How do I prepare for a flood?
Flood waters move fast, so develop a household plan, put together your emergency kit (grab 'n go bag) and connect with your neighbours. For details, visit BC Preparedness.
Sandbagging is your best defence against flooding.
With a rising water table due to overfilled lakes, residents in low laying areas should also consider moving items out of their basements and crawl spaces. The underground water table rises with higher lake levels and there is no way to stop it from seeping into basements.
If you face a threatening flood situation, park vehicles away from streams and waterways, move electrical appliances to upper floors and make sure to anchor fuel supplies. Listen to local officials if you are asked to evacuate.
Where do I find sand and sandbags?
Sand is being constantly replenished. Check the map for updated information. Residents who notice sand running out at a location can contact the Information Office at 250-469-8490 or 1-877-569-8490 (toll-free).
Filling sandbags is normally a two-person job. One person should crouch with feet apart and arms extended, with the bottom of the empty bag on the ground, holding the bag open while another person shovels sand into the bag.
Step 1
Fill the bag halfway. Do not add more sand, as it will not help. Filling the bag halfway with sand allows the bag to be moved more easily. A properly filled sand bag should weigh between 35-40 lbs. Be sure to wear gloves, plus goggles to protect your eyes from the sand.
Step 2
Close the top of the bag. Scrunch the walls of the bag together like a candy bag. Sandbags filled one-half to two-thirds full should generally be left untied.
Step 3
Use proper lifting techniques to avoid injury and fatigue. Lift with your legs and bend at the knees to save your back.
Lay the sandbag flat and roughly parallel to the expected flow of water and debris. Make sure the closed end of the sandbag is facing in the general direction of the expected flow, and fold the open end of the sandbag diagonally away from the expected flow.
Check out this sandbag demo for more instruction.
How high should I stack my sandbags?
To establish how flood levels will impact property:
This is only effective when property owners measure from the lake.
Use today's lake level as seen in the above graph
Use a tape measure to measure anticipated total lake increase plus additional vertical required to protect from wave action.  Every property is different.
Mark this level again on something stationary such as a tree, fence or wall. Build flood protection measures up to that height.
I'd like to help fill sandbags. Where do I go?
I'm on my own and can't fill a sandbag myself. Can I get help?
Please go to any of the sandbag sites listed on the map and connect with your neighbours and community.
How can I tell where to place sandbags on my lakefront property?
Protective measures should consider maximum lake levels plus a buffer to protect from wave action. See the graphic at the top of this page for the current level of Okanagan Lake.
Construct the sandbag dike on high ground, as close as possible to your home or building. By being closer to your home or building, fewer bags will be needed, and the sandbag dike will be less exposed to the stream.
How do I create a sandbag dike?
Construct the sandbag dike on high ground, as close as possible to your home or building. By being closer to your home or building, fewer bags will be needed, and the sandbag dike will be less exposed to the stream.
Sandbagging should also focus along existing flood works or any low spots along dikes for maximum protection.
Dig a trench one bag in depth and two bags wide as a foundation for the dike structure.
To be effective, a dike must be three times as wide at its base as it is high.
Sandbags should be turned right side out and filled half full. They need not be tied shut, just laid overlapping each other.
The open ends of the sandbags should be facing upstream and/or uphill so that the moving water will not remove the sand from the bags as readily.
Alternate direction of sandbags with bottom layer, i.e. bottom layer lengthwise with dike, next layer crosswise.
As individual bags are put in place, walk on bags to tamp them into place to ensure maximum strength. Take care to avoid puncturing the bags.
The butt ends of the bags should be placed facing the stream, for rows that are perpendicular to the stream.
Each successive layer should be set back one-half sandbag width on both sides in each additional layer so a completed dike has a triangular cross-section.
The number of sandbags needed to protect a home or building varies depending on the local topography and the anticipated depth of water.
From: Emergency Management BC
How can I dispose of my sandbags?
Residents along the foreshore in area lakes and near mouth of creeks are asked to leave all sandbags in place due to historical lake levels. Flooding is still a concern and lake levels are expected to remain high for some time.
The Central Okanagan Emergency Operations team is working on a recovery plan, which includes what to do with sandbags. More information will be provided when it is available and as the flood risk subsides.
We appreciate the patience of residents while recovery efforts are coordinated. In the meantime, residents wanting to drop of their own sandbags at their cost can do so at the following depots:
Kelowna
Cook Road Boat Launch outside the Hotel Eldorado - Mission
Burtch Road – Apple Bowl Parking Lot
District of Lake Country
Woodsdale Road - Beasley Park Parking Lot
How can I prepare my dock?
Dock tips (in preparation of a flood):
If anchored, make sure the anchor lines are long enough, so they don't snap if water rises too high
If you have a pull-up dock, pull it up as high as possible
For fixed docks weight with water-filled barrels along the outside perimeter of the dock
Remove all loose items from the dock, but do not clean any debris from shoreline
Ensure boats are secured
Stay away from fast moving waters
If residents have a licence of tenure/occupation from the province, the dock can be covered under house insurance.
If they do not, insurance will not cover it. Anyone with further questions should speak to their insurance provider directly.
For more information, visit the Province of BC's website.
Where do I monitor weather and stream/lake flows?
What is an Evacuation Alert?
An Alert means that occupants should be prepared to leave at a moment's notice and possibly be out for an extended time should it become necessary to issue an Evacuation Order.
Prepare by:
locating all family members or co-workers and designate a meeting place outside the evacuation area, should an evacuation be called while separated
gathering essential items such as medications, eyeglasses, valuable papers (i.e. insurance) and immediate care needs for dependants and having these items readily available for quick departure; preparing to move any disabled persons and/or children
moving pets and livestock to a safe area
arranging accommodation for your family if possible
What do I do on an Evacuation Order?
An event has made it necessary for you to be evacuated, potentially leaving your home for an extended period of time. Although you cannot be forced to leave your home, we strongly recommend that you do.
Register with the ESS (Emergency Support Services) Reception Centre located at the Salvation Army Church, 1480 Sutherland Avenue (corner of Burtch Road and Sutherland Avenue), who will be able to provide some food and accommodation assistance. Register ASAP as 72 hours of support is available.
After 72 Hours, if you are still on evacuation order, you must register again with ESS to receive further food and accommodation vouchers
Limited accommodation is available Friday and Saturday. Please make arrangements to stay with friends or family for the duration of the evacuation order.
My home has flood water damage. Can I get financial assistance to help with costs and cleanup?
Disaster Financial Assistance is a provincial program, administered by Emergency Management BC, to help individuals and local governments recover from uninsurable disasters. The purpose of DFA is to provide a helping hand to get people and local governments back on their feet after an uninsurable disaster.
Visit www.gov.bc.ca/disasterfinancialassistance for more information.
Who is eligible for Disaster Financial Assistance?
Homeowner
Assistance must be for the residence that is occupied by the individual as their home, where the majority of their personal effects are located, and the residence for which they received the provincial Home Owner Grant or were entitled to receive this grant.
Residential Tenant
Must be the residence that is occupied by the individual as their home and where the majority of their personal effects are located.
Small Business Owner
Must be the owner of a business that is managed by the applicant on a day to day basis, is the owner's major source of income, has gross sales of less than $1 million per year, and employs less than 50 people at any one time.
Farmer
Must be the owner of a farm operation that is identified by the BC Assessment Authority as an agricultural operation, is owned and operated by a person whose full time employment is as a farmer, and is the means by which the owner derives the majority of their income.
Charitable Organization
Must be a not for profit charitable organization that provides a benefit or service to the community at large, has been in existence for at least 12 months, and is registered under the Society Act.
Check the map to see if the evacuation order status has been rescinded.
As this is a weather driven event and conditions change quickly, we are unable to predict when evacuation orders will be rescinded. We also advise that sandbags are left in place until the flood watch has ended.
I'm told I can return to home. How do I know it's safe and what should I look for?
Be aware that you may not have full services. Many conditions must be considered including whether there has been flood/water damage and the status of utilities and electrical/gas service. Those with property managers or landlords should see them to obtain information on the safety and status of their property.
All electrical wiring in buildings that has been partially or fully covered by flood water must be checked by a qualified electrician or electrical inspector before being put into service again. Any loose wires should be considered "live" and are a definite hazard.
If water levels were high enough to cover the gas meter, call FortisBC or your local gas provider to check your meter and regulator before using your gas system. Flood waters may have shifted your home or caused other stresses to the gas piping.
If you smell gas, or if there is evidence of a gas leak, do not enter the building. Turn your gas off at the main shut-off valve on the inlet pipe next to your gas meter. Using a wrench or other suitable tool, give the valve a quarter turn in either direction so that it is crosswise to the pipe. Call the 24-hour emergency line at 1-800-663-9911, your local fire department or 911.
A number of Water Quality Advisories and Boil Water Notices are in place in the area. Check https://www.interiorhealth.ca/YourEnvironment/InspectionReports/Pages/WaterNotifications.aspx or with your water service provider for the most up-to-date information.
Septic systems can be affected by flooding as the water table rises. You can minimize the impact by reducing the amount of water handled by your system. Should flooding of your septic field and tank area occur, there is very little that can be done. You should discontinue use of your system, and do not empty your septic tank until the system can be evaluated.
Flooding can saturate insulation and wallboard, carpets and furniture and create favourable environments for mould development. Mould can affect people's health, contributing to respiratory problems, allergies, and can irritate eyes, and cause skin infections and rashes. Action to remove saturated items from the home and dry the home out should be taken as soon as possible after flooding to reduce the opportunity for mould growth.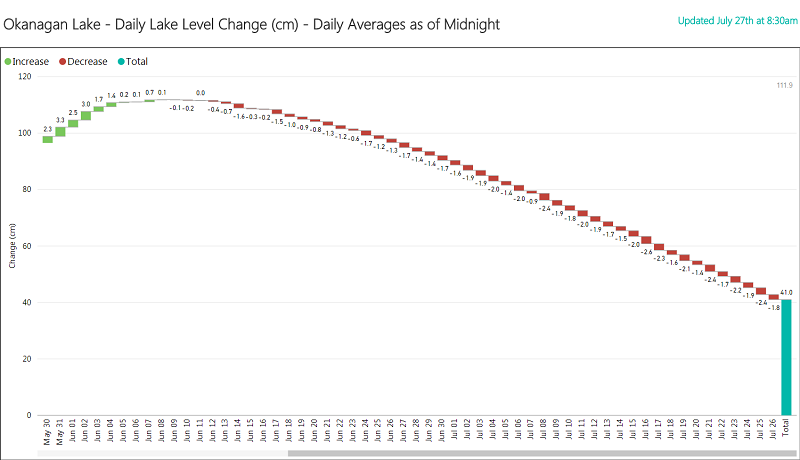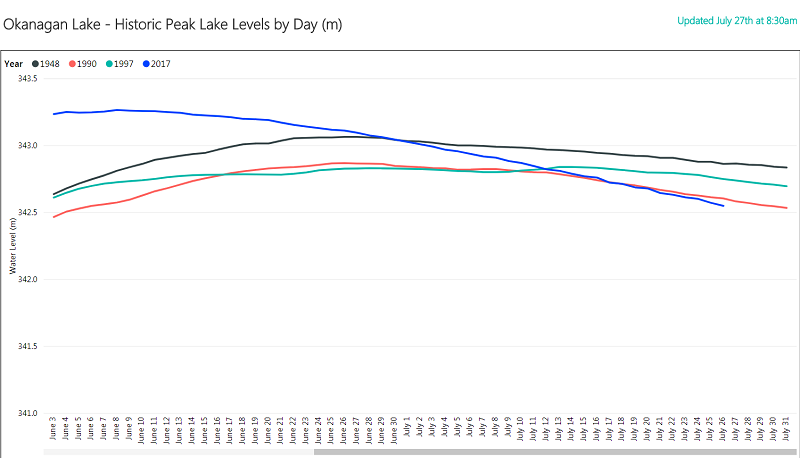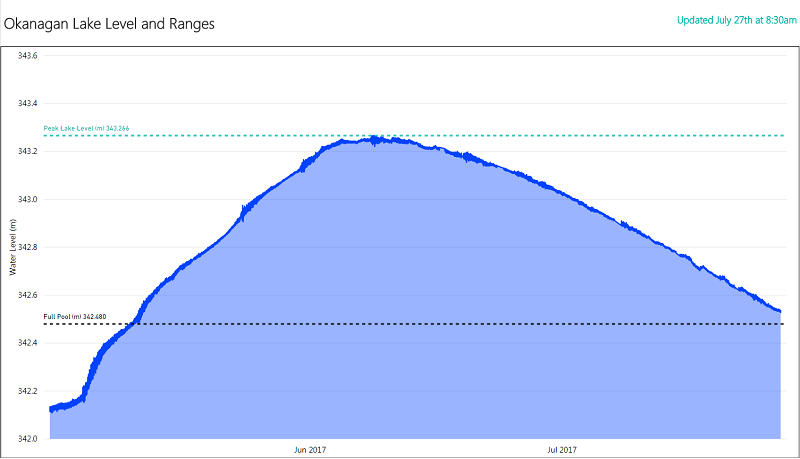 Data from City of Kelowna analytics.